Earlier this year, realtor.com announced the release of the Housing Recovery Index, a weekly guide showing how the pandemic has impacted the residential real estate market. The index leverages a weighted average of four key components of the housing industry by tracking each of the following:
Housing Demand

 

– Growth in online search activity
Home Price

 

– Growth in asking prices
Housing Supply

 

– Growth of new listings
Pace of Sales

 

– Difference in time-on-market
The index compares the current status "to the January 2020 market trend, as a baseline for pre-COVID market growth. The overall index is set to 100 in this baseline period. The higher a market's index value, the higher its recovery and vice versa."
The graph below charts the index by showing how the real estate market started out strong in early 2020, and then dropped dramatically at the beginning of March when the pandemic paused the economy. It also shows the strength of the recovery since the beginning of May.
Today, the index stands at its highest point all year, including the time prior to the economic shutdown.
The Momentum Is Still Building
Though there is some evidence that the overall economic recovery may be slowing, the housing market is still gaining momentum. Zillow tracks the number of homes that are put into contract on a weekly basis. Their latest report confirms that buyer demand is continuing to dramatically outpace this same time last year, and the percent increase over last year is growing.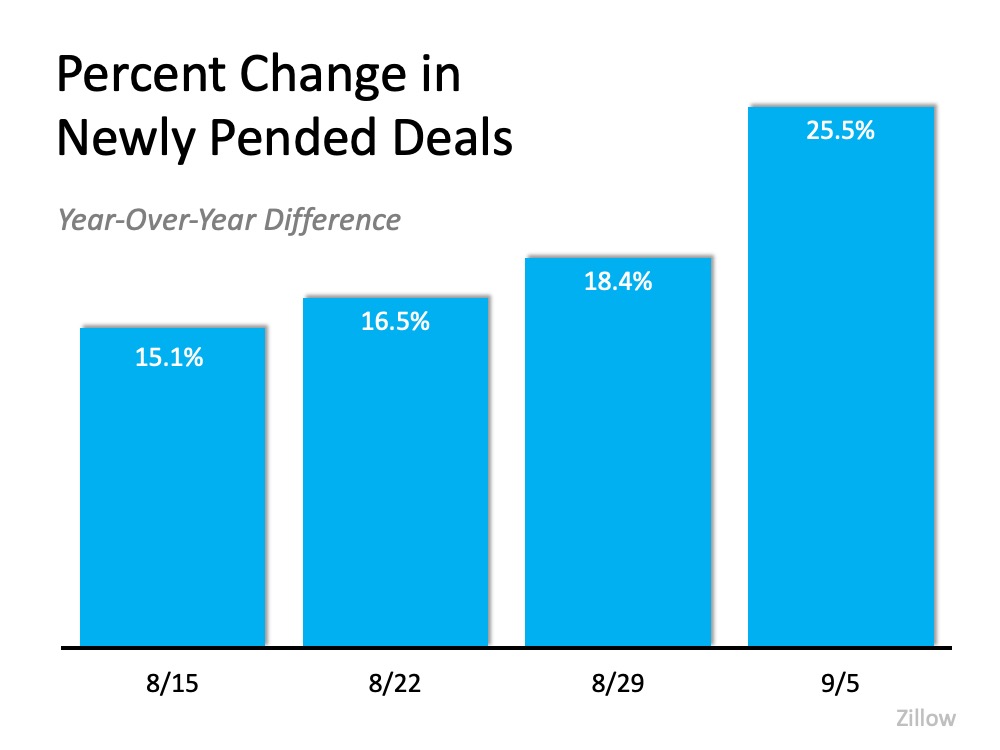 Clearly, the housing market is not only outperforming the grim forecasts from earlier this year, but it is also eclipsing the actual success of last year.
Frank Martell, President and CEO of CoreLogic, explains it best:
"On an aggregated level, the housing economy remains rock solid despite the shock and awe of the pandemic."
Bottom Line
Whether you're considering buying or selling, staying on top of the real estate market over the coming months will be essential to your success.
A home seller may face a variety of dilemmas as he or she tries to get the best price for a residence. However, a seller who prepares for potential problems may be better equipped than others to enjoy a fast, profitable property selling experience.
Now, let's take a look at three tips to help you get ready for potential home selling dilemmas.
1. Upgrade Your Residence
You may believe your residence will sell quickly, but the housing market offers no guarantees. Fortunately, if you allocate time and resources to upgrade your residence, you could differentiate your home from comparable houses in your city or town.
Removing clutter will make it easy for you to show off the true size of your home's interior to prospective buyers. Furthermore, you should clean each room of your home. If necessary, you may want to hire a professional home cleaning company too.
Don't forget to trim the hedges, mow the front lawn, repair cracked or damaged siding and perform other home exterior upgrades, either. If your home boasts amazing curb appeal, potential buyers may fall in love with your residence as soon as they see it.
2. Establish a Competitive Initial Asking Price for Your Home
If your home's initial asking price is too high, you risk alienating potential buyers. But if you analyze the real estate market closely, you can use housing sector data to establish a competitive initial home asking price.
Take a look at the prices of recently sold houses in your city or town, as well as the prices of available residences that are comparable to your own. This information provides a glimpse into the current state of the housing market and can help you determine how to price your residence.
It may be beneficial to conduct a home appraisal as well. In fact, a home appraisal report includes a property valuation that you can use to set a competitive initial asking price for your residence.
3. Collaborate with a Real Estate Agent
A real estate agent understands what it takes to sell a home in any housing sector, at any time. As such, he or she can offer expert guidance to help you identify and overcome home selling dilemmas.
Oftentimes, a real estate agent will meet with you, find out why you want to sell your house and craft a personalized home selling strategy for you. He or she next will list your residence and promote it to prospective buyers. And if you receive an offer to purchase your house, a real estate agent will help you determine how to proceed with this proposal.
A real estate agent also is ready to provide immediate responses to your home selling concerns and questions. That way, you can receive plenty of support as you navigate the home selling journey.
Ready to add your house to the real estate market? Use the aforementioned tips, and you should have no trouble addressing potential home selling dilemmas and enjoying a seamless property selling experience.
In the community of Westborough, MA in the past month there have been 29 homes sold.  The average sale price of these homes was $674,724 and the homes were on the market an average of 81 days.  There have been 10 homes listed for sale during the past month in Westborough, MA.
 
We are here to serve all your real estate needs in the surrounding communities.  We welcome your business, and we promise to take exceptional care of you or any of your referrals.

This Single-Family in Holden, MA recently sold for $351,000. This Ranch style home was sold by Katie McBride - RE/MAX Executive Realty.
25 Scenic Dr,
Holden, MA 01520
Single-Family
Welcome home to "The Maze of Holden." Look no further for single level living than this enlarged ranch. The interior and exterior have been freshly painted making this home ready for its new owners. The crisply refreshed kitchen has abundant cabinet space and gives you easy access to guests in fireplaced formal living room, cozy dining area or humungous family room. This is the family room that you've always dreamed of: cathedral ceilings, wood stove, large windows, sliding glass door for quick access to your deck, as well as ample space for a large sectional couch, comfy chairs and an oversized tv. Three bedrooms including master are located in the other wing of the home giving you privacy. Enormous corner lot ready for you to add your personal touch, maybe a pool? Other attributes of the home include 2 full bathrooms, boiler new in 2017, roof new in 2015, 1 car garage as well as expanded side driveway.
What a super location in Marlborough - close to shops and major routes! It's just minutes to Route 495, a commuter's dream! This home has been modified over the years. The sellers opened up the first floor by taking down walls for two of the first floor bedrooms to create an open dining room and a huge fireplaced living room for comfortable one floor living. Lots of hardwood and solidly built home. This space can easily be made back into 3 bedrooms w/ some light carpentry. On the second floor, there is another bedroom. Nice sized kitchen w/ lots of cabinet space. Solid wood cabinets could easily be painted to brighten up!The home also boasts a bright 3 season porch to enjoy most seasons. The one car garage is an added bonus, and the beautiful .66 acre lot, with fenced yard, completes the package. Move in ready - make the changes as you go! Good bones and spacious rooms. This home is waiting for the perfect new owner to add their own touches & add equity!


More Info on this Property | New Listing Alerts