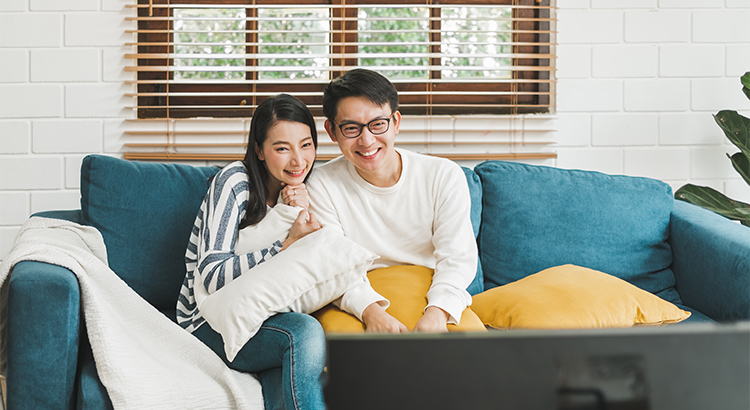 Have you ever been flipping through the channels, only to find yourself glued to the couch in an HGTV binge session? We've all been there, watching entire seasons of shows like "Property Brothers," "Fixer Upper," and "Love It or List It," all in one sitting.
When you're in the middle of your real estate-themed TV show marathon, you might start to think everything you see on the screen must be how it works in real life. However, you may need a reality check.
Reality TV Show Myths vs. Real Life:
Myth #1: Buyers look at 3 homes and decide to purchase one of them.
Truth: There may be buyers who fall in love and buy the first home they see, but according to the National Association of Realtors, the average homebuyer tours 10 homes as a part of their search.  
Myth #2: The houses the buyers are touring are still for sale.
Truth: Everything is staged for TV. Many of the homes shown are already sold and are off the market. 
Myth #3: The buyers haven't made a purchase decision yet.
Truth: Since there is no way to show the entire buying process in a 30-minute show, TV producers often choose buyers who are further along in the process and have already chosen a home to buy. 
Myth #4: If you list your home for sale, it will ALWAYS sell at the open house.
Truth: Of course, this would be great! Open houses are important to guarantee the most exposure to buyers in your area, but they are only one piece of the overall marketing of your home. Keep in mind, many homes are sold during regular showing appointments as well. 
Myth #5: Homeowners decide to sell their homes after a 5-minute conversation.
Truth: Similar to the buyers portrayed on the shows, many of the sellers have already spent hours deliberating the decision to list their homes and move on with their lives and goals.
Bottom Line
Having an experienced professional on your side while navigating the real estate market is the best way to guarantee you can make the home of your dreams a true reality.
In many ways, the quality of your life is determined by the condition of your home. If it feels like your home is in disrepair, messy, or cluttered, you're not going to feel comfortable or satisfied with your living situation. While perfection is an unattainable standard, there are a lot of simple things you can do to keep your home in good condition and prevent problems.
Train Your dog. Although many people own dogs and consider them to be a cherished part of the family, not everyone takes the time to properly housebreak, exercise, and train their pets. Dogs are very eager to please, but they need clear guidelines to understand what you expect of them. Some dogs also tend to express frustration or restlessness in destructive ways if they're not given enough attention, exercise, or toys/treats to chew on. It's not uncommon for dogs to chew on furniture, shoes, or other valued possessions if their needs are not met. Ideally, people should research dog breeds before actually purchasing a household pet. That way you can know more about temperament, exercise requirements, and training potential before you bring a puppy into the family. In addition to helpful online videos on raising obedient dogs, pet supply stores periodically offer low-cost training classes for dogs and their owners. Effectively housebreaking your pet in the first few days and weeks of adopting them is a key aspect of a harmonious pet/owner relationship. Otherwise, your furniture, hardwood floors, and carpeting could be subject to irreparable damage!
Use Furniture Sliders: Hardwood floors can be a mixed blessing. On one hand, they're a high-quality, nice-looking material that enhances the look and feel of your home. On the other hand, it can be difficult to prevent scratching, scuffing, and even gouging of those beautiful surfaces. One solution, which is easy on both your floors and your pocketbook, is to put felt or plastic furniture sliders under the legs of your tables, chairs, and ottomans. Not only can you prevent or reduce hardwood floor scratching that inevitably happens when furniture is dragged across a floor, but it also makes it easier to rearrange furniture.
Maintain Your Rain Gutters: Properly working rain gutters serve the useful purpose of channeling water away from your roof, eaves, and foundation. By making sure your gutters are not clogged up with leaves, branches, and other debris, you can help protect your home from water damage. If the downspout of your rain gutter empties water too close to your house, you can often correct that by purchasing and attaching an inexpensive extension. Routing water away from your foundation can help prevent basement leaks, cracking, and crumbling. It can also be part of a multi-faceted approach to preventing basement mold.
Control Clutter: Household clutter not only degrades the appearance of your home (for both you and your guests), but it's a known source of psychological stress. Taking the first step to reduce clutter is usually the most difficult part of the process, but once it's a habit, maintaining a clutter-free home becomes infinitely easier!
In the community of Millis, MA in the past month there have been 8 homes sold.  The average sale price of these homes was $464,438 and the homes were on the market an average of 91 days.  There have been 4 homes listed for sale during the past month in Millis, MA.
 
We are here to serve all your real estate needs in the surrounding communities.  We welcome your business, and we promise to take exceptional care of you or any of your referrals.

Whether you've owned a home before, or you're ready to jump into homeownership for the first time, there are always a lot of questions swirling around about what is truly required for a down payment, and how to best source down payment assistance. Let's tackle these two today.
1. How much do you really need for a down payment?
There is a long-standing misconception about down payment requirements. A survey from Fannie Mae shows only 17% of consumers know the minimum options are actually between 1 – 5% of the purchase price and 40% don't know how much they need at all.
There are many mortgage loans available that require as little as 3% down for first-time buyers, and some ask for only 3.5% down from repeat buyers. There are even loans available for Veterans that provide 0% down payment options too.
We've mentioned recently that you don't need to come up with a 20% down payment to buy, and we've also shared how quickly you can save for a 3% or 10% down payment, depending on where you live. If you're planning to put down just 3%, the research shows it may be possible in most states to have enough saved for a down payment in less than a year. That puts homeownership in a much closer reach for many potential buyers, maybe even you!
2. How can I get help with my down payment?
Regardless of the loans available, many buyers still need assistance with a down payment. The great news is, there are a lot of ways to tap into down payment assistance options. Here are just a couple of them:
Assistance from Family Members
The National Association of Realtors (NAR) said, "a third of recent first-time buyers received down payment assistance from family members." They also mentioned, "the average net worth of those aged 75 and over stands at $264,800…They just might offer the boost the next generation needs to become homeowners."
That means one of the ways to find help with a down payment is to accept a gift from a family member. If this is an option for you, make sure you talk to your loan officer before you accept the money, to ensure you document the process the way it is required by your loan. This way, it will be received properly and you can still potentially qualify.
Down Payment Assistance Programs
The reality is, not everyone has a loved one or a family member who can provide help with a down payment. There are, however, more than 2,500 down payment assistance programs available (by local areas like city, county, or neighborhood), and some of them are even specifically for first-time buyers.
The gap, as mentioned in the same survey, is "only 23% of consumers are familiar with low down payment programs."
That's why it is so important to get familiar with these options by doing your homework before you plan to buy a home. Determine what is available in the area where you ultimately want to live, so you have all the details you need to take advantage of the down payment assistance option that is best for your family.
Bottom Line
If buying a home is one of your long-term goals, you may be able to get there sooner than you think by tapping into one of the many down payment assistance programs available.
One feature new homeowners most look forward to adding is a backyard garden. Afterall, is there anything better than a homegrown tomato or zucchini?
Another benefit of homeownership is the ability to start a compost heap for your garden. By skipping chemical fertilizers in favor of compost you will not only have a great way to recycle yard and kitchen scraps but also naturally replenish the soil. This leads to healthier plants, a healthier you and little by little a healthier planet.
Compost is so nourishing because of what is called humus. Humus is the part of soils made from decomposition. It restores nutrients to the malnourished soil, helps the soil retain moisture and even keep diseases from affecting your plants.
To get started you'll want to choose how you'll go about creating your compost. You can either opt for a tumbling composter, which takes a lot of the manual work out of turning your pile, or creating your compost on top of the ground, where it will have easy access to earthworms and easily drain excess water.
When creating a compost pile you will want it to be at least 3 feet long by 3 feet wide. You will also want your pile to be about 3 feet high. To help keep your pile neat and contained you can build, or buy, a fence-like box for your compost pile.  
When you have your compost "storage" of choice ready to go you'll also want to have a good amount of scraps to begin building your pile up to those 3 feet I mentioned or fill up your bin. The best way to do this is to keep two sealable containers in your kitchen to toss scraps in for your pile. However, you don't want to toss just anything into this container.
What you can put into your Dry (also called Brown) scrap container:
Eggshells

Tea leaves and/or coffee grounds

Dead flowers

Cardboard and paper goods (they must be unwaxed)

100% cotton and/or wool (no synthetics)
What you can put in your Moist (also called Green) scrap container:
Vegetable scraps

Fruit scraps

Grass and leaves

Manure from herbivorous animals (cows, horses, rabbits, etc)
What you should never put in your containers:
Meat, fish or bone scraps

Manure from carnivorous animals (cats, dogs, etc)

Waxed, sticky or treated paper products and/or wood

Citrus peels or onions
Begin your pile with a layer of sticks and straw if you will be building it on bare ground. This will allow your compost to properly drain and avoid becoming oversaturated. Next, alternate layers of moist/green and dry/brown materials to an even 50/50 ratio.  
You will want turn over your pile every few weeks to allow for oxygenation. If your pile begins steaming that means the decomposition process is in action!  When it begins to turn a crumbly black in the center and earthworms are showing up compost has begun to/is fully formed and ready to use in your garden!