If you're an apartment renter ready to take the plunge into home ownership, there are a lot of reasons to be excited! Owning your own home does bring with it additional work and responsibilities, but the feeling of pride that accompanies it makes it all worthwhile!
Once you get used to the idea that "the buck stops here" and that there's no landlord to handle repairs and maintenance any more, it won't take long to get into the rhythm of being an established property owner. Here are a few tips to help ensure that your first experience with home ownership is a satisfying one.
Get a good real estate agent. A real estate professional can provide you with valuable guidance, advice, and information about houses you're considering in your desired neighborhoods and price ranges. A buyers' agent can help you avoid many of the potential pitfalls of buying your first home and help you stay within budget. They'll assist you in clarifying your priorities and work on your behalf to find homes that meet your requirements. A service-oriented agent will not only point out the positive aspects of houses you're considering, but they'll also discuss ideas for adapting the home to your specific needs and lifestyle.
Hire an experienced property inspector. A seasoned home inspector can take a close look at the condition of the house and property you're considering and help make sure there are no major structural defects, safety issues, or operational problems with the home's systems and components. Although every property inspector approaches their job a little differently, their inspection service should include everything from the roof and foundation to the plumbing, electrical, and HVAC systems. They may also report to you on the condition of the home's insulation, its exterior, and any existing or potential drainage problems on the property. Certain aspects of the house may be excluded from the inspection if it's difficult or unsafe to gain access to them. A top-notch home inspector can also provide useful insights into repairs that need to be made on the house. As a side note, professional property inspectors are often members of The American Society of Home Inspectors and follow the organization's Standards of Practice.
Visit a lot of different houses for sale before making a final decision. It also pays to have a checklist with you to keep track of how each house stacks up to your requirements and expectations.
While your emotions will invariably play a role in your final choice, many other factors should also be taken into account, including the character of the neighborhood, proximity to conveniences and shopping, and the quality of the school district. Your real estate agent and/or the U.S. Department of Housing and Urban Development can provide you with a handy checklist for evaluating and comparing homes for sale.
In the community of Holliston, MA in the past month there have been 19 homes sold.  The average sale price of these homes was $601,884 and the homes were on the market an average of 30 days.  There have been 4 homes listed for sale during the past month in Milford, MA.
 
We are here to serve all your real estate needs in the surrounding communities.  We welcome your business, and we promise to take exceptional care of you or any of your referrals.
 

This Single-Family in Hopkinton, MA recently sold for $950,000. This Colonial style home was sold by Katie McBride - RE/MAX Executive Realty.
14 Hidden Brick Road,
Hopkinton, MA 01748
Single-Family
This stately brick front colonial is beautifully situated on corner lot in desirable Ravenwood Estates. Expansive deck overlooking lovely landscaped yard with inground pool for those hot summer days. There is also an overhang with brick patio for those who prefer the shade, and a separate area with a firepit. A gorgeous cathedral family room with fireplace and built ins is the perfect spot to watch your favorite show. Spacious front to back fireplaced living room at the other end of the home offers a separate space to unwind. A delightful office/sitting area with built ins overlooks the back yard and boasts a third fireplace. Elegant dining room, with pretty chanderlier and gorgeous woodwork rounds out the first floor. Upstairs are 3 ample sized bedrooms, and a nice master with 2 separate closets spaces, and an updated bath. It also features a small deck to sit with your morning coffee or a book in the afternoon. The basement is finished as well, with separate areas! Don't miss!
Many industries have been devastated by the economic shutdown caused by the COVID-19 virus. Real estate is not one of them.
Mark Fleming, Chief Economist for First American, just reported:
"Since hitting a low point during the initial stages of the pandemic, the only major industry to display immunity to the economic impacts of the coronavirus is the housing market. Housing has experienced a strong V-shaped recovery and is now exceeding pre-pandemic levels."
Buyer demand is still strong heading into the fall. ShowingTime, which tracks the average number of buyer showings on residential properties, just announced that buyer showings are up 61.9% compared to the same time last year. They went on to say:
"Normally, real estate activity begins to slow down in the late summer, but this year it peaked in July, August and into September."
There Is One Big Challenge
Purchaser demand is so high, the market is running out of available homes for sale. Just last week, realtor.com reported:
"Since the beginning of the COVID pandemic in March, nearly 400,000 fewer homes have been listed compared to last year, leaving a gaping hole in the U.S. housing inventory."
The National Association of Realtors (NAR) revealed that, while home sales are skyrocketing, the inventory of existing homes for sale is dropping dramatically. Below is a graph of existing inventory (September numbers are not yet available):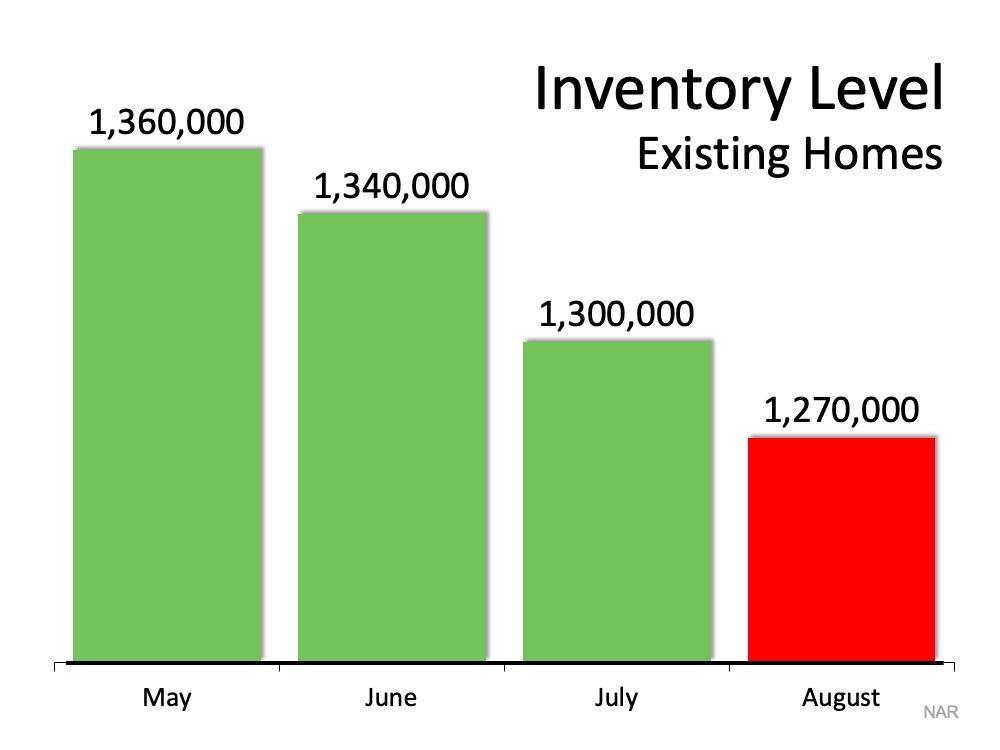 Homebuilders are increasing construction, but they cannot keep up with the high demand. Bill McBride, founder of the Calculated Risk blog, in discussing inventory of newly constructed houses, notes:
"The months of supply decreased to 3.3 months…This is the all-time record low months of supply."
What does this mean for sellers?
Anyone thinking of putting their home on the market should not wait. A seller will always negotiate the best deal when demand is high and supply is limited. That's exactly the situation in the real estate market today.
Next year, when the pandemic is hopefully behind us, there will be many more properties coming to the market. Don't wait for that increase in competition in your neighborhood. Now is the time to sell.
Bottom Line
Let's connect today to get your house on the market at this optimal time to sell.
Photo by Christina Morillo from Pexels

If you're a first-time homebuyer and you've already started exploring available properties, you might think to yourself, "Why do I even need a buyer agent?" After all, you've been looking at homes for sale and the realtors who showed you the properties were very nice and helpful. But here's the deal: Those realtors are seller agents. They represent the home seller. They are legally, morally and ethically bound to get the best possible deal for the seller -- not for you as the buyer! This is just one of the reasons why first-time homebuyers can really benefit from working with a buyer's agent. Here are some more advantages.
Buyer Agents Work for You -- The Buyer
Once you're prequalified and your buyer agent understands the features you want in your first home, the agent will locate for-sale properties that fit your criteria. Not only that, but the buyer agent will coordinate and schedule showings of those properties for you. You don't have to do all of the legwork. And remember: As your representative, the buyer agent is out to find the best possible deal on a first-time home purchase for you.
Buyer Agents Are Great Negotiators
Every home sale and purchase is bound to hit a snag or two along the way. It's a lengthy process to buy or sell a home, and it's also a highly emotional transaction for buyers and sellers. It is, after all, the largest emotional and financial transaction that most people will make in their lifetime. Therefore, the negotiating skills of a buyer agent will be of great benefit to you as a homebuyer. If something starts to go wrong, they know how to negotiate a fix and they know professionals within their network who can help iron out problems -- from titling companies to real estate attorneys and even contractors to fix unexpected problems with the property.
Buyer Agents Are Property Experts
If you look at a home, do you know all the potential problem spots to examine to ensure that it won't have hidden costs? For example, can you tell if the plumbing is too old and will need major repairs within five years? Can you assess the age and functionality of the furnace, hot water heater and other features? Probably not -- but the buyer agent can because he or she has that experience.
Best of all, buyer agents don't charge any upfront or ongoing fees for their services. They split the commission with the seller agent who works for the home seller. For all these reasons and more, it makes great sense to put the expertise of a buyer agent to work for you!